1. What's the difference between the custom experience and the online collection?
Our team at Paper Daisies is here to help you bring your unique vision/brand to life. To fit your workflow style, and your taste and budget, we have designed two options for wedding and event stationery - our online collection and our completely custom designs.

Online Collection - For clients who are out of town or for those who prefer working digitally, our online collection has over 50 pre-designed suites to choose from with new collections added monthly. Our variety of options not only allow clients to personalize their stationery but also to stay on budget. To learn more, visit our Online Collection Info Page. To peruse our collections, visit our Shop Page.
Custom Experience - For clients who are looking to develop a uniquely branded suite, we offer a custom experience that begins with a complimentary consultation. Once we have met and we understand the vision, we will create a custom design and provide estimates within about 2 weeks of the initial consultation. Custom designs range greatly due to the nature of being custom and thus differ in their style and production time. Price will vary. To learn more about out custom experience, visit our Custom Experience Info Page.
2. In what order should I put my invitation pieces in my envelopes?
How to stuff your envelopes is really up to you. If you have cards to include, we recommend placing them behind the invitation in the outer envelope. If you ordered ribbon or twine, once tied you can slide the cards under it to hold them in place.

If you ordered a response envelope, slide your enclosure cards into the closed flap to help hold them together in the mail. If your response envelope adds a pop of color, place it in front so your guests see the color upon opening their invitation.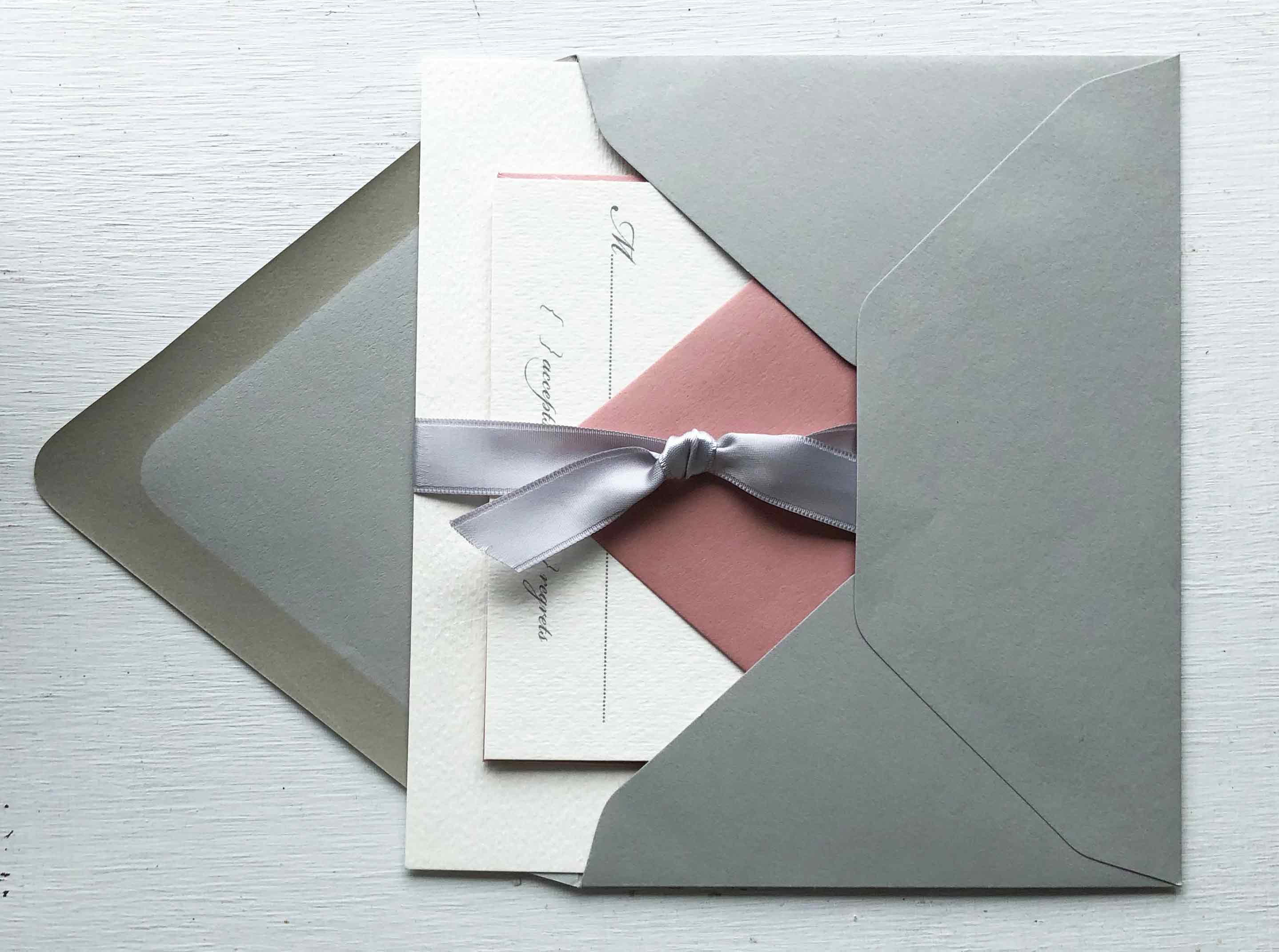 3. What is your price range?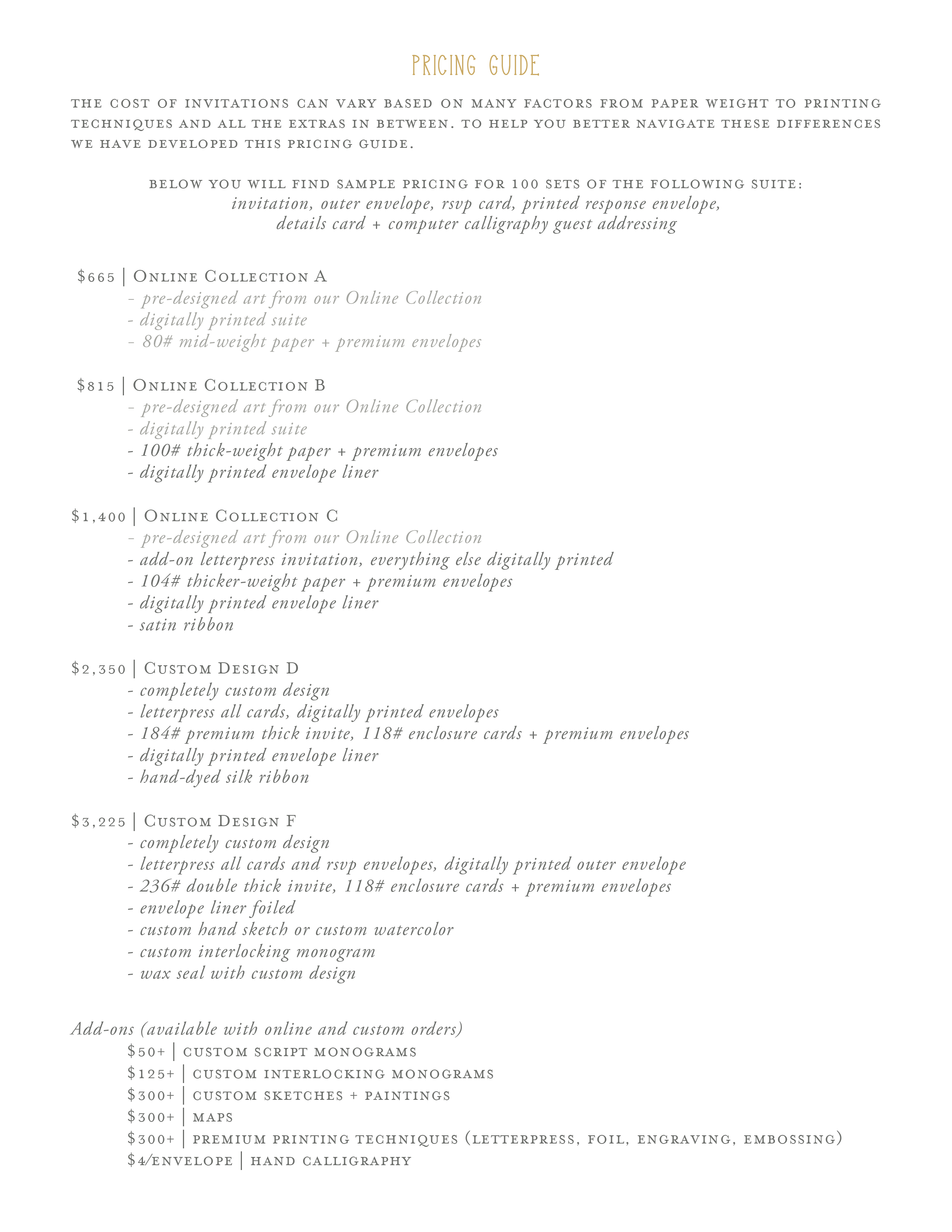 4. Can I change the colors when I order online?
Absolutely! You can select a main color and an optional accent color. We recommend choosing a darker color for your text and using the lighter colors as accents. Some of our watercolor swatches and floral details have pre-determined color offerings, but you can always change the color of the font. You can also order coordinating envelopes, liners, and backing layers! Mix and match or use the same colors throughout your suite! Learn more on our Online Collections Info Page.
5. Can I customize my online order?
We will personalize our designs to include your information for your digital design proofs. We will also update the colors to match those indicated on your order. If you are looking to change fonts or make any overall design changes/additions there will be a custom design fee ranging from $25 - $75 depending on the request. To learn more visit our Online Collection Info Page.
6. Can I provide my own monogram or artwork?
If you have permission to use the custom art then we'd be happy to add it to your designs! There will be a custom design/artwork set-up fee of $50.
7. Will I see my invitation before placing my order?
At Paper Daisies we like to work one on one with our clients. We want to make sure all of your questions are answered and every t is crossed. Once you place your order you will be contacted by your designer who will be creating and sending you your digital proofs. Once you've had time to review and edit your stationery we'll move on to print!
8. Are my proofs going to be printed or digital?
We offer 3 rounds of complimentary digital proofs and as many rounds of proofs as you need beyond that for $25 each. If you would like to have a customized printed sample of your invitations, we can accommodate that request for a $50 print fee (please note that printed samples will be digitally printed and may not reflect the final look of our high-end printing techniques). If you're mostly interested in seeing the colors we'd highly recommend ordering a sample pack which includes printed color cards on white and ivory paper. Click here to view our Sample Sets.
9. What is computer calligraphy?
We are proud to offer both computer calligraphy and hand calligraphy guest addressing services for our save the date, wedding invitation, and thank you card envelopes. Computer calligraphy has the look of hand-calligraphy and will be printed to match the color and style of your suite. This is a great and cost effective alternative to addressing them by hand. If you choose to add guest addressing to your order, we request that you use Our Template. To learn more, visit our Online Collection Info Page.
10. Do I need inner envelopes?
Inner and outer envelopes are an old tradition that dates back to when invitations were delivered by horseback. The outer envelope would get so dirty that it was removed once delivered so that the addressed recipient only saw the clean inner envelope. They aren't necessary or even common these days except for very traditional weddings, however we do offer them by request.
11. How much postage do I need?
We recommend taking your invitations to the Post Office you plan to mail them from and have them weighed. They will recommend the correct postage according to their scale. If it's a single card and envelope it will likely be a standard 1oz stamp, however if you have multiple inserts, a liner, and ribbon you may need a 2oz stamp. You should also note that square envelopes always require additional postage.
12. When should I send out my invitations?
Typically 8-12 weeks is a good time to send out your wedding invitations. Err on the earlier side if you aren't sending save the dates. We highly recommend avoiding rainy days and holiday card season if possible. Visit our Timelines Page for more information.
13. How long does it take to receive my order?
Once we've received your final approval, your order will immediately go to print. Fulfillment typically takes about 2 weeks unless we are using high-end printing techniques or doing any assembly which can take an additional 1-2 weeks depending on the job.
14. Will my invitations be assembled for me?
That depends. If you order online, your stationery will come ready to be folded, lined, matted or tied unless you indicate to your designer that you'd like for us to handle that part for you. Our custom experience pricing includes all assembly aside from stuffing and sealing the envelopes. We offer stuffing, stamping, and sealing as an additional service as our print schedule allows. Please inquire with your designer if you'd like to add this service.
15. How should I seal my envelopes?
Envelopes have a gum paste that is activated by moisture (licking or using water). We prefer to use Scotch 3M Transfer tape (general purpose). We do not recommend using a glue stick to seal your invitations. Whatever method you choose, we highly recommend testing a sample to be sure it's sealed tight before mailing.
16. I heard you have rental items for local weddings! What do you have available?
We do!! We rent large and small frames, table numbers, easels, and pre-made signs to our customers. Come by the studio to check them out or inquire with your designer.
17. Do you offer sustainable or environmentally friendly paper and printing options?
We offer a great earth-friendly option! We print the majority of our custom orders on Reich Savoy paper which is tree free and made from 100% recovered cotton from the textile industry that would otherwise end up in a landfill. And since cotton is naturally brighter white than wood, the cotton paper making process requires less bleach and other chemicals than papers made from wood. It also requires far less water processing and far less energy. Savoy is archival, acid free, recyclable, biodegradable, and elemental chlorine free. And for printing, our favorite letterpress vendor uses all soy inks. Soy ink is a helpful component in paper recycling because the soy ink can be removed more easily than regular ink from paper during the de-inking process. Soy ink also has low levels of VOCs, (volatile organic compounds) which helps to reduce air pollution by minimizing toxic emissions. They also clean all of their equipment with Citra Solv products which are made with plant-based ingredients and contain no dyes, EDTA, phosphates or chlorine and scented with the finest essentials oils.
18. Do you work with LGBTQ couples?
Yes, we offer our services to all couples!