WE WANT TO MAKE OUR PLANNERS LOOK LIKE ROCKSTARS!
We LOVE working with wedding planners and we are excited to partner with you to bring your client's vision to life through stationery!! We work in all budgets and styles and are a one-stop-shop - "A Pinterest Page Come to Life" - for all your printed wedding needs! Working with us means all your client's printed items will be cohesive and organized to make your job easier. We really shine when we get to provide stationery from Save the Dates and Invitations all the way through to the Day of Details.
Learn More About Us and Meet Our Crew
OUR OPTIONS AT A GLANCE
Recognizing the unique differences of each client - aesthetic, time frame and budget - we have designed two options to work with us for wedding invitations; our semi-custom collections and our bespoke experience.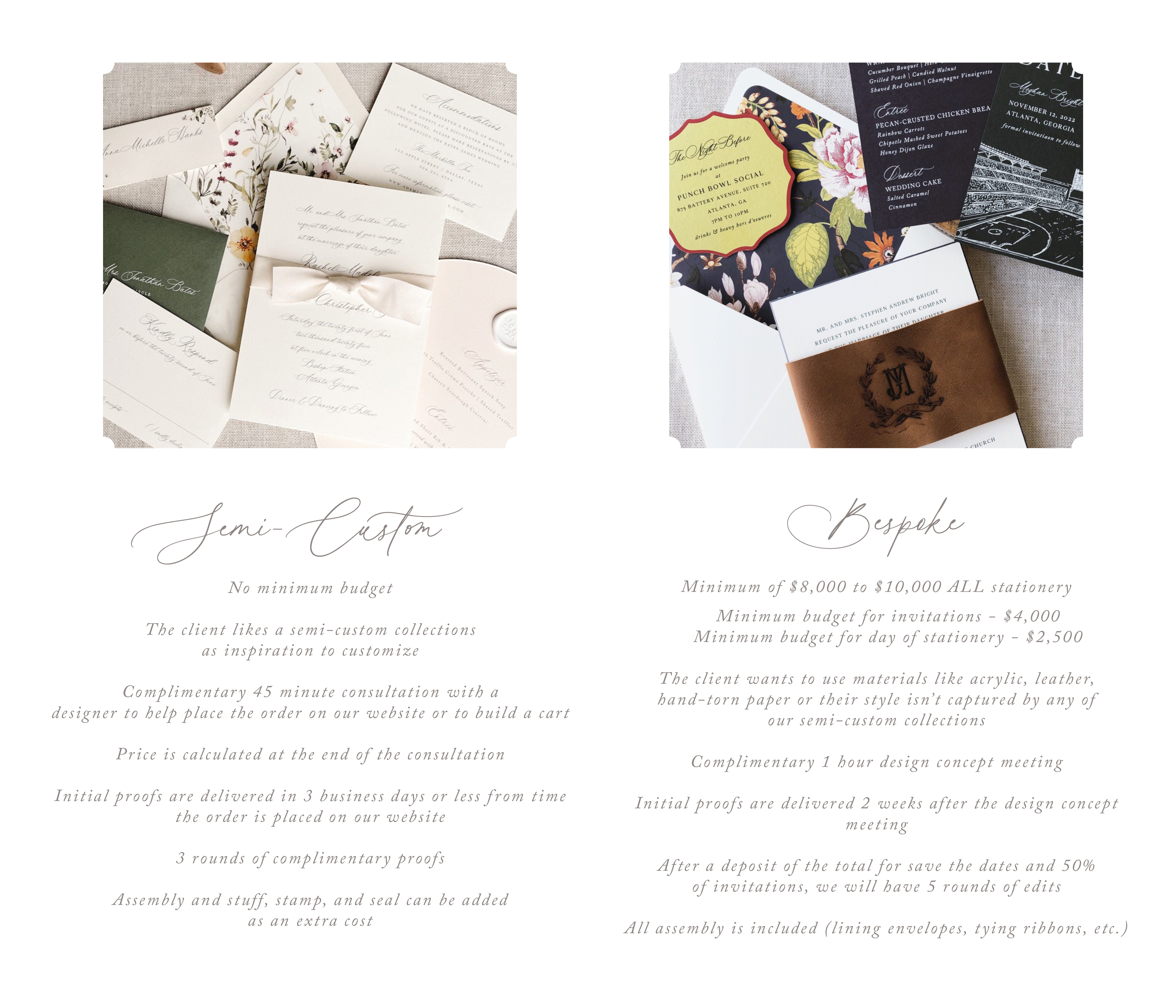 PLANNER RESOURCES
We want your clients to have a great experience working with us. To help us, help you, help them... check out these handy resources we've put together for our event planners. Click to open, and download each item.
| | | | |
| --- | --- | --- | --- |
| | | | |
| | | | |
| Need help figuring out how to address a guest? Read our comprehensive guide here! | | Insert your couple's wedding date into the top of the spreadsheet to see your stationery due dates | |
Schedule A Tour
We'd love to meet you in person or over zoom to answer any questions and introduce you to Our Crew!
Studio Hours: M-F | 10am – 5pm
Planner FAQs
Q My client isn't sure whether they will be Semi-Custom or Bespoke? How do I know?
A Typically the best indicator of whether a client will be Semi-Custom or Bespoke is their stationery budget. There is no minimum for our Semi-Custom route while our Bespoke clients generally spend around $8,000-$10,000 on Save The Dates, Invitations, and Day Of Stationery. The minimum for Bespoke invitations is $4,000. If they are still not sure, schedule a browsing session with us so your client can look through our portfolios and see what we have to offer!
Q My clients want to order from the Semi-Custom Collection but they would like to see it in person first. Can they come to your studio?
A Absolutely! We love meeting our clients in person! We do ask that an appointment be made in advance to make certain that no other events are scheduled. We offer browsing session to anyone interested in seeing what we have to offer and then 45 minute complimentary consultations to help guide the client in design choices, build the client's cart, and then order through the website!
Q What if my clients love a suite from the Semi-Custom Collection but they want it letterpressed?
A No problem! With any of our Semi-Custom collection suites our clients can add-on letterpress, foiling, an embossed monogram, or a combination. When the order is placed just have your client choose the custom option that they are interested in.
Q What if I have a quick turn-around?
A For quick turn-around, flat or digitally printed stationery from our semi-custom collection is the way to go. Once ordered, you/your client will have initial designs within 2 business days. With production taking 2.5 weeks and adding in time for edits, a quick turnaround is typically 3 weeks. We do however, recommend that clients prepare for an average of 4 weeks for digitally printed stationery and 6 weeks for those with custom add-ons (such as letterpress, foiling, wax seals, hand calligraphy, etc).
Q How long does printing take for an invitation suite once the design is approved?
A For orders that are digitally printed production typically takes 2.5 weeks. For orders with custom add-ons such as letterpress or foil, orders will take closer to 4 weeks. For orders with multiple production techniques and/or lots of assembly, production can be up to 5-6 weeks.
Q My client only needs Day of Details for the event - when should we order?
A To avoid rush fees, it is ideal to place your order for napkins, koozies, matches and cups about 5 weeks before the event date. For all printed paper goods it's best to get the order in at least 4 weeks before the wedding date.
Q Will my client's Semi-Custom invitations come assembled?
A For Semi-Custom collection orders items will arrive ready for assembly; ribbons arrive cut and ready for tying and envelope liners and backing layers arrive cut and ready for adhering. However, assembly can be added on for an additional cost - as well as stuffing, stamping, and sealing!